Palestinian Child Seriously Injured By Bomb Dropped By Israeli Army
Jan 22 2014 / 4:32 am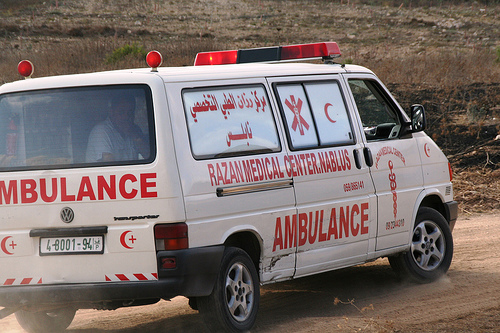 IMEMC, January 22, 2014 – Palestinian medical sources have reported that that a Palestinian child suffered serious injuries after a bomb, dropped by Israeli soldiers during training, exploded in his hands, in the Jordan Valley.
The sources said that the child, 12 years of age, found the bomb, and carried it not knowing what it is, and that the bomb detonated in his hands.
The child was moved to a local hospital suffering life-threatening injuries.
In February of last year, a Palestinian child was killed and three other children were injured, in two separate incidents, when un-exploded Israeli military bombs detonated near them, in northern Gaza.
In November of 2012, a five-year old Palestinian child suffered head injuries and died of his wounds, in a similar incident which took place in Khan Younis, in the southern part of the Gaza Strip.
Earlier the same month, three children, between the ages of three and five, were seriously injured when an explosive device left by the Israeli army detonated near them in the town of Beit Hanoun, in northern Gaza.
Dozens of Palestinians, including children, workers and shepherds, have been wounded, with many killed, due to undetonated explosives dropped by the Israeli army during its repeated wars on Gaza, as well as explosives dropped by the army during training near Palestinian communities in the occupied West Bank, especially in the Jordan Valley and Northern Plains..
Posted by
Philip Giraldi
on Jan 22 2014 . Filed under
News from the Middle East
. You can follow any responses to this entry through the
RSS 2.0
. Both comments and pings are currently closed.