Palestinian Detainee Dies Of Injuries Suffered After Israeli Soldiers Attacked Him In Prison
Feb 25 2014 / 9:54 pm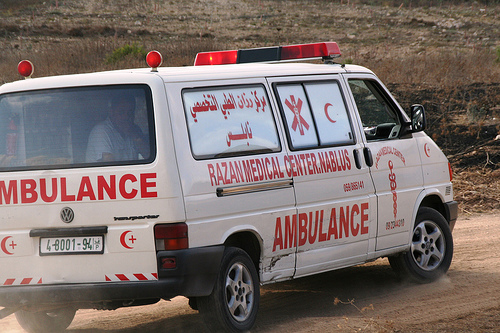 IMEMC, 2/25/14 – A Palestinian detainee from occupied Jerusalem died, in an Israeli hospital, of injuries suffered nearly two weeks ago, after Israeli soldiers violently assaulted him while at the Beersheba Israeli prison.
Detainee Jihad Abdul-Rahman at-Tawil, 47, was held in the Dekel section of the Beersheba Israeli prison when Israeli soldiers attacked him, violently beating him with batons, in addition to spraying him with gas.
His brother, Sharif, said that Jihad died at midnight, at the Soroka Medical Center in Beersheba, after succumbing to serious wounds, the Wadi Hilweh Information Center, in Silwan, has reported.
Sharif added that his brother was serving a three-month term for "driving a car without a permit."
His brother lost consciousness, after being assaulted by the soldiers, and fell into a coma until he was pronounced dead.
Sharif added that his brother was kidnapped in late December of 2013, and that Israel was about to release him before he was assaulted and seriously wounded.
He was supposed to be moved to surgery on Sunday, February 23rd.
Jihad is from Ras al-'Amoud neighborhood in Silwan town, in occupied East Jerusalem; he is a married father of five children.
Posted by
Philip Giraldi
on Feb 25 2014 . Filed under
News from the Middle East
. You can follow any responses to this entry through the
RSS 2.0
. Both comments and pings are currently closed.