Palestinian Political Prisoner at Risk of Death 2 Months into Hunger Strike
Mar 17 2014 / 7:51 pm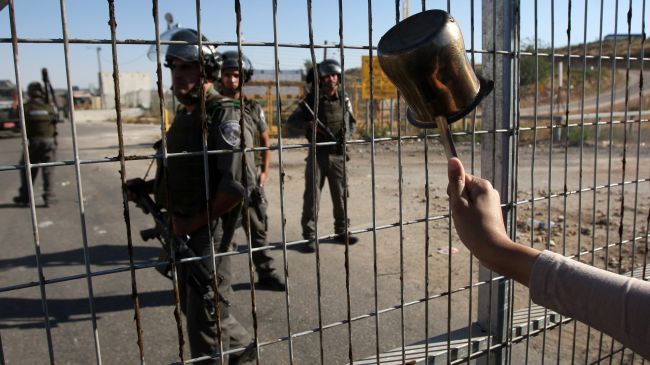 IMEMC, 3/17/14 – Palestinian Authority Ministry of Prisoners' Affairs lawyer Hiba Masalha said that she visited hunger striker Waheed Abu Maria in Wolfson Hospital, on Saturday, and that he is in critical condition.
Abu Maria, who has been on hunger strike for 67 days, has lost 88 lbs, is unable to walk, and suffers from continuous head and chest pain in addition to shortness of breath, memory loss, and vision impairment, Masalha said.
The prisoner will only accept salt and water, refusing both vitamins and medical examinations, the lawyer said, adding that three guards are stationed in his hospital ward, where his left hand and right leg are chained to his bed. He is not allowed to receive visitors, Ma'an News Agency has reported.
A spokeswoman for the Israeli Prison Service confirmed that Abu had been transferred to a hospital and that guards were stationed in his room.
She said she could not provide any further details about his health or the status of his administrative detention.
Abu Maria is a leader in the Palestinian Islamic Jihad movement who is being held in administrative detention without a trial.
According to a Saturday report by the Palestinian Prisoners' Society, 12 Palestinians are currently on hunger strike in Israeli custody.
According to Israeli human rights group B'tselem, in October 2013, 140 Palestinians were being kept in administrative detention in Israeli prisons, down from a high of nearly 1,000 in 2002.
4,881 Palestinians were being held in Israeli jails as of Jan. 2014, according to a report by the same organization. Another 1,415 were in Israeli prisons for being inside Israel without permits.
Under international law, it is illegal to transfer prisoners outside of the occupied territory in which they are detained. Families of Palestinian prisoners' face many obstacles in obtaining permits to see their imprisoned relatives.
Posted by
Philip Giraldi
on Mar 17 2014 . Filed under
News from the Middle East
. You can follow any responses to this entry through the
RSS 2.0
. Both comments and pings are currently closed.