Palestinian Shot and Killed By Israeli Army In Ramallah
Jan 29 2014 / 8:35 pm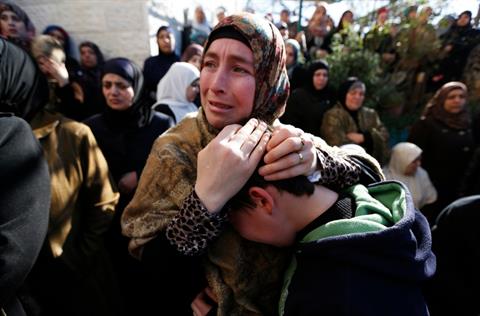 IMEMC, January 29, 2014 – Palestinian medical sources have reported that a young Palestinian man has been shot and killed by Israeli army fire near the Ein Senia area, north of the central West Bank city of Ramallah.
The sources stated that resident Mohammad Mahmoud Mubarak, 20, was shot and killed while working.
The family said Mubarak, and other workers, were conducting repairs on the main Ein Senia road when soldiers, stationed on a nearby military tower, opened fire at him. The army alleged the slain worker carried a gun.
The Israeli army alleged that the slain Palestinian "was armed", and "opened fire at an Israeli military post between Atarot and Halamesh settlements, north of Ramallah.
Eyewitnesses denied the Israeli claims, and confirmed Mubarak was working, and did not carry a weapon of any sort.
The slain Palestinian was a flagger directing traffic while repairs were being conducted on the road.
The repairs are part of many projects funded by the USAID in different parts of the occupied West Bank.
Soldiers handed over the body of Mubarak to his family later on. He is the nephew of Hamas legislator Ahmad Mubarak, from the Al-Jalazoun refugee camp, north of Ramallah.
Ramallah governor, Dr. Leila Ghannam, stated that Israel is ongoing with its crimes against the Palestinian people, encouraged by the silence of the international community.
On Tuesday at night, Israel returned the body of Ahmad Abdul-Jawad, from the Old Askar Refugee camp, in the northern West Bank city of Nablus, twelve years after burying him at the Numbers Graveyard.
On the same night, Israel returned the body of Abdul-Karim Tahaina, from Sielet Al-Harithiyya.
Tahaina, of the Islamic Jihad, was killed on March 5 2002, when he carried out a suicide bombing in an Israeli bus in Affoula, killing one Israeli and wounding 25 others, the Maan News Agency has reported..
Posted by
Philip Giraldi
on Jan 29 2014 . Filed under
News from the Middle East
. You can follow any responses to this entry through the
RSS 2.0
. Both comments and pings are currently closed.