Photojournalist Assaulted and Severely Beaten Near Israeli Settlement
Feb 17 2014 / 8:56 pm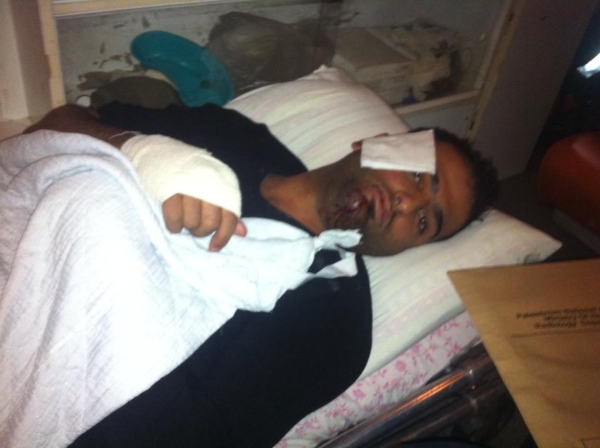 PNN, 2/17/14 – Israeli occupation forces assaulted Saturday evening Photojournalist Yousef Shakarneh from Nahalin village west of Bethlehem, who worked as a freelancer Photojournalist with a number of local and international news agencies.
Parents of the Photojournalist Shakarneh told PNN that their son was assaulted and severly beat while shooting a report about the suffering of the Palestinian workers who work inside the Green Line in an area located near the Beitar Illit settlement.
They added that they had received the news of their son from one of the workers who saw Yousef lying on the ground at an Israeli checkpoint near the settlement after the IOF troops assaulted him.
The father of the journalist said that the worker approached his son and asked him about what happened to him, adding that the worker took Yousef's mobile and called his family and then he worked on transferring the wounded photojournalist to one of the hospitals in Bethlehem.
He added that his son Yousef told him that four soldiers stopped him from shooting the report and detained him for several hours. They assaulted him and threw him near one of the checkpoints, where he was found by the worker. Yousef suffered severe bruises and fractures all over his body.
Ahmed Shamroukh, an employee at the Directorate of Information in Bethlehem said that he received a phone call about this brutal attack and headed to al-Yamamah hospital to see Yousef.
He added that Yousef is holding a Press ID from the Palestinian Ministry of Information and the Journalists' Syndicate.
Shamroukh stressed that this attack is a proof of the Israeli occupation's racist policies and its deliberate target of the Palestinian journalists and photographers, in attempt to hide their crimes against the workers who suffer from difficult living and humanitarian conditions.
Shamroukh called the international institutions to initiate an investigation into the attacks that are committed by Israeli forces on the Palestinian and international journalists..
Posted by
Philip Giraldi
on Feb 17 2014 . Filed under
Featured articles
,
News from the Middle East
. You can follow any responses to this entry through the
RSS 2.0
. Both comments and pings are currently closed.