Police: Israel dropped 'equivalent of 6 nuclear bombs' on Gaza
Aug 22 2014 / 9:47 pm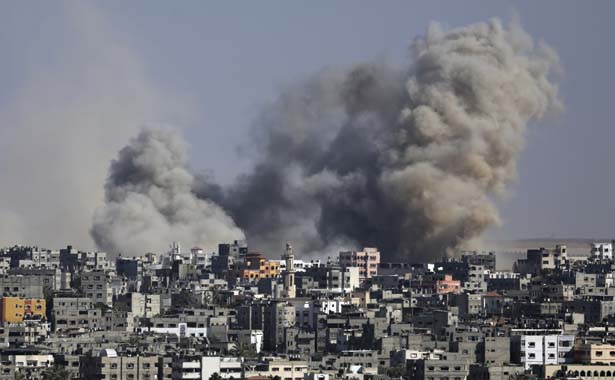 Ma'an News
– Bomb disposal experts in Gaza on Friday said that Israel had dropped the equivalent of six nuclear bombs on the tiny coastal enclave over the course of it's six-week assault, including many that the police say are internationally banned.The explosives' engineering police of the Gaza Ministry of Interior said in a statement that Israel had dropped 20,000 tons of explosives on the 139 square mile (360 sq km) territory.
"Flechette shells, fuel-air bombs (which explode twice, including after impact), dime shells, and flechette shells saturated with uranium were fired at Gaza Strip," the statement added, stressing that the weapons "affect the environment, soil, and water and will affect the next generations by spreading diseases especially cancer."
The statement said that areas near the border like Khuzaa, eastern Rafah, Shujaiyya, eastern al-Mughazi, al-Bureij and Juhr al-Dik were hit with "the lion's share of Israeli shells and missiles."
The statement said that of the total number of explosive, 8,000 were dropped from warplanes, "killing entire families and crossing them out of the Palestinian civil register."
Drones, Apache, F15, F16 and "vertical" warplanes were used during the offensive, firing MK82, MK83 and MK84 shells.
The statement added that the Israeli artillery deployed in eastern Gaza City had fired high-explosive shells at homes and civilian property causing massive damage, especially in Rafah, Khan Younis, Shujaiyya and Beit Hanoun.
More than 60,000 artillery shells of different sizes were fired at Gaza.
During the assault, Gaza police bomb disposal experts said that engaged in 1731 different missions including treating explosive devices, suspicious devices. and vehicles, among other tasks.
Major Hazem Abu Murad, deputy head of the explosives engineering department, and Major Taysir al-Hum were killed while dismantling suspicious objects in northern Gaza Strip, the statement added.
According to the statement, Major Abu Murad was one of the most important experts and trainers in explosives engineering in Gaza.
Other engineering police members were killed or detained during the Israeli offensive on Gaza Strip, the statement added, without identifying them.
Posted by
Philip Giraldi
on Aug 22 2014 . Filed under
Commentary & Analysis
,
Featured articles
. You can follow any responses to this entry through the
RSS 2.0
. Both comments and pings are currently closed.