Pope Calls for Allowing Free Access to Holy Sites in Jerusalem, Urges Two State Solution
May 26 2014 / 6:25 pm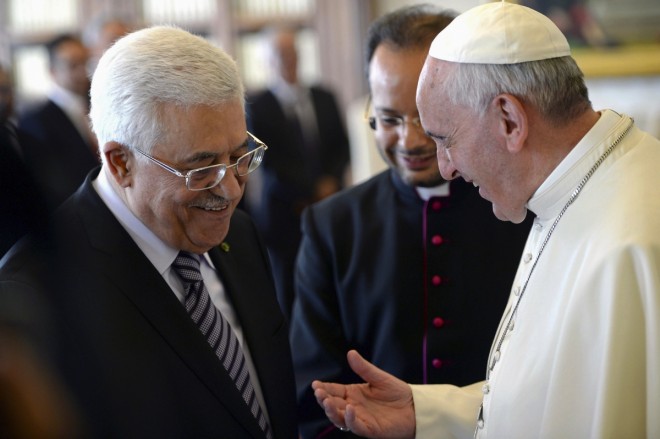 IMEMC – Pope Francis, on his last day of a 3-day pilgrimage to the Holy Land, called for allowing all believers free access to holy sites in Jerusalem, according to Agence France-Presse (AFP).
Late Sunday afternoon, Pope Francis arrived in Tel Aviv, where he urged Israeli President Shimon Peres and other authorities to adopt a two-state solution to the Israeli-Palestinian conflict, Al Ray has reported: Renewing the appeal made by former pontiff Benedict XVI, Pope Francis called for "universal recognition" of "the right of the State of Israel to exist and flourish in peace and security within internationally recognized borders."
"At the same time, there must also be a recognition of the right of the Palestinian people to a sovereign homeland and their right to live with dignity and with freedom of movement. The 'Two State Solution' must become reality and not remain merely a dream," he urged those gathered at the Ben Gourion Airport in Tel Aviv on May 25.
During his visit with Peres, WAFA reports that Pope Francis expressed his hope for Jerusalem to truly be the City of Peace, saying "how good it is when pilgrims and residents can enjoy free access to the Holy Places and can freely take part in the religious celebrations."
Posted by
Philip Giraldi
on May 26 2014 . Filed under
News from the Middle East
. You can follow any responses to this entry through the
RSS 2.0
. Both comments and pings are currently closed.