Protecting Israel Is Their Full-Time Job
May 8 2018 / 1:45 pm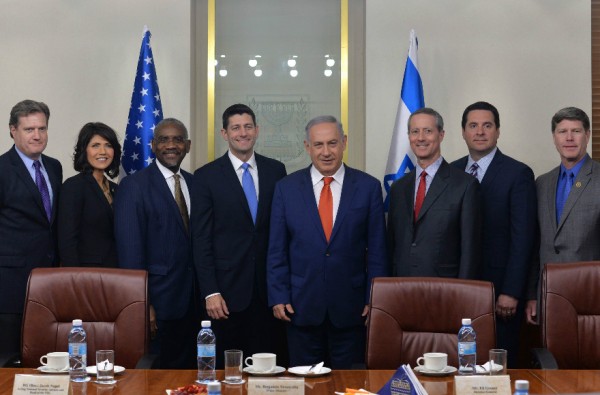 Time to question the loyalty of some legislators and judges
I have a number of times discussed how the U.S. and other governments have legislated and otherwise promoted Jewish and Israeli interests in ways that most people would find unacceptable if they were aware of what exactly has been going on. Here in the United States, special Medicare coverage and immigration status have been granted, often concealed in other legislation, to benefit holocaust survivors and Russian Jews seeking to emigrate. State legislatures and the U.S. Congress have meanwhile been working hard to pass legislation that blocks and even criminalizes the non-violent Boycott, Divestment and Sanctions (BDS) protests against Israeli behavior while universities have been banning anti-Israel demonstrators and groups on campus because they apparently are offensive to the sensitivities of some Jewish students.
The latest outrage against the First Amendment comes from South Carolina, the home state of the arch-Zionist poseur and United Nations Ambassador extraordinary Nikki Haley. A new hate speech law was inserted in the state's recently approved annual budget. The legislation borrows from the U.S. State Department definition of anti-Semitism, which proscribes speech that "demonizes" or applies "double standards" to Israel "by requiring of it a behavior not expected or demanded of any other democratic nation" as anti-Semitic.
While the State Department definition is a guideline, the South Carolina's specific inclusion of it in legislation makes explicit that criticism of Israel as hate speech can be subject to criminal penalties. It also is binding on all the states universities and educational institutions.
The law was promoted by Alan Clemmons, a Mormon legislator who has led numerous delegations to Israel and who has been described as "Israel's biggest supporter in a U.S. state legislature."
Supporters of the Bill of Rights have been universally opposed to the bill, but pro-Israel groups have praised the initiative and are expecting a "new wave" of legislation all across the United States blocking any criticism of the self-described Jewish State. The Brandeis Center has enthused
"This bill gives South Carolina the tools to protect Jewish students' and all South Carolina students' right to a learning environment free of unlawful discrimination. We are hoping this momentous step will result in another national wave to, once and for all, begin defeating rising anti-Semitism."
Other states will undoubtedly follow the South Carolina lead, so it would appear that any criticism of Israel will become illegal in the public square if the many friends of Prime Minister Benjamin Netanyahu have their way. And they generally do get what they want from the federal level all the way down to the states and local communities, so be prepared.
Israel also is regularly exploiting the American legal system to punish countries that it has defined as its enemies. Its government sponsored lawfare organization called Shurat Hadin has initiated a number of lawsuits in U.S. courts to punish Palestinians and Iranians. Ironically, it is currently seeking to demonstrate that Hamas is committing war crimes in Gaza, where Israel has been using army snipers to kill unarmed demonstrators.
Other lawsuits filed on behalf of mostly Jewish Americans in U.S. courts seeking compensation from Iranians and Palestinians are also pending, with the tribunals in Manhattan particularly prone to being sympathetic to the plaintiffs. Last week, at the Federal Court for the Southern District of Manhattan, Judge George Daniels issued a default judgment relating to his 2011 determination that Iran and Hezbollah materially and directly supported al-Qaeda in the 9/11 attacks and are legally responsible for damages to the hundreds of family members of victims who are named in the case. The judge ordered Iran to pay $6 billion in compensation – "$12,500,000 per spouse, $8,500,000 per parent, $8,500,000 per child, and $4,250,000 per sibling" to the families and estates of the deceased. A 4.96 annual interest rate will also be applied to the amount, starting from September 11, 2001 to the date of the judgement."
Normally foreign governments have what is referred to as sovereign immunity which prevents their being sued, but that all changed in the U.S. with the passage of the Justice Against Sponsors of Terrorism Act (JASTA) of 2016, which permitted individual lawsuits in any federal court involving any government's alleged participation in international acts of "terrorism." This has resulted in a series of multi-billion-dollar lawsuits against Iran, the Palestinians and also Saudi Arabia. Many of the lawsuits have Israeli citizens as plaintiffs, suing in American courts.
Though the lawsuit claimed, and Judge Daniels agreed, that Tehran had supported the 9/11 hijackers with training and other assistance, most authorities would question that judgement. Many would consider it to be ludicrous as Iranian Shi'ites were considered to be kill-on-sight heretics by al-Qaeda. The idea that Iran was somehow involved in 9/11 is in reality a ridiculous Israel Lobby contrivance that was first floated in 2015 by ex-CIA Director James Woolsey, a renowned Zionist stooge and conspiracy theorist who is viewed by many as not completely in possession of all his marbles.
Indeed, it is far more plausible that Israel was involved in 9/11 than was Iran. Israel operated a massive spying operation directed against Arabs in the U.S. and several of its intelligence officers were seen in Jersey City to be filming themselves while dancing and cavorting in delight as the twin towers went down, suggesting some prior knowledge.
But, of course, no one would be allowed to sue Israel in an American court. The 9/11 Commission failed to examine the case against Israel even though it allegedly sought to compile a "full and complete account of the circumstances surrounding" the attacks, but it did investigate the possible ties to Iran. It found the only evidence of any Iranian support to consist of certain 9/11 hijackers travelling through Iran on their way to Afghanistan without having their passports stamped.
In his Farewell Address President George Washington warned that
"…a passionate attachment of one nation for another produces a variety of evils. Sympathy for the favorite nation, facilitating the illusion of an imaginary common interest in cases where no real common interest exists, and infusing into one the enmities of the other, betrays the former into a participation in the quarrels and wars of the latter without adequate inducement or justification. It leads also to concessions to the favorite nation of privileges denied to others which is apt doubly to injure the nation making the concessions; by unnecessarily parting with what ought to have been retained, and by exciting jealousy, ill-will, and a disposition to retaliate, in the parties from whom equal privileges are withheld. And it gives to ambitious, corrupted, or deluded citizens (who devote themselves to the favorite nation), facility to betray or sacrifice the interests of their own country, without odium, sometimes even with popularity; gilding, with the appearances of a virtuous sense of obligation, a commendable deference for public opinion, or a laudable zeal for public good, the base or foolish compliances of ambition, corruption, or infatuation. As avenues to foreign influence in innumerable ways, such attachments are particularly alarming to the truly enlightened and independent patriot."
If one believes that deference to the special foreign interest of one powerful and wealthy segment of the population is appropriate in a democracy then I suppose the Jewish/Israeli pander has to be considered acceptable. I happen to believe that, as our first president so clearly articulated, it is not, particularly as much of the concession that Jews are somehow to be treated differently than the rest of the community due to their alleged victimhood contributes to a criticism-free ride for an Israel which is eagerly seeking a new war in the Middle East. It would be a war that the United States would inevitably get pulled into by Israel's friends in Congress and the media. It would also be catastrophic for all parties involved and it all starts with the belief that Israel should somehow be protected and its enemies punished while also being exempt from being made accountable for its actions.
Posted by
Angela Giraldi
on May 8 2018 . Filed under
Commentary & Analysis
,
Philip Giraldi
. You can follow any responses to this entry through the
RSS 2.0
. Both comments and pings are currently closed.