Remains of 4 Palestinians Returned After Over a Decade
Mar 19 2014 / 7:59 pm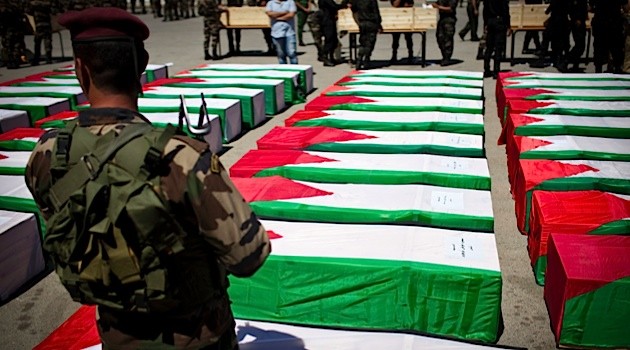 IMEMC, 3/19/14 – Israeli authorities, late Tuesday, delivered the remains of four Palestinians withheld by Israel for over a decade, according to Palestinian officials.
Tamir Arafeh, director of the military liaison department in the northern West Bank, told Ma'an News Agency that the remains of Muhammad Abd al-Rahman al-Hanbali, Muhammad Abd al-Hamid Saleh Hamoudha, and Yasser Ahmad Saleh were delivered to the Taybeh checkpoint west of Tulkarem.
Separately, the remains of Jamil Khalaf Mustafa Hmeid were delivered to his family at Tarqumiya checkpoint south of Hebron, security sources said.
Al-Hanbali died in September of 2003, after Israeli troops raided a building in order to detain him, in the al-Makhfiyya neighborhood of Nablus.
Saleh was killed in clashes with Israeli troops near the illegal Yitzhar settlement, in September 2002.
Hamoudha died in February of 2002, after he and Abd al-Jabbar Khalid carried out a militant operation in Hadera, northern Israel.
Hmeid died in March of 2002.
Since the late 1960s, Israel has withheld the bodies of hundreds of Palestinians. Their bodies are interred in numbered, rather than named, graves in four cemeteries created for that purpose, the biggest of which is located in the Jordan Valley.
A number of Palestinian families, this year, have received the remains of relatives who were killed by Israeli forces and whose bodies had been held in Israel.
Posted by
Philip Giraldi
on Mar 19 2014 . Filed under
News from the Middle East
. You can follow any responses to this entry through the
RSS 2.0
. Both comments and pings are currently closed.