Report: Several Palestinian Detainees Face Life-threatening Conditions Due To Lack Of Medical Care
Feb 10 2014 / 7:04 pm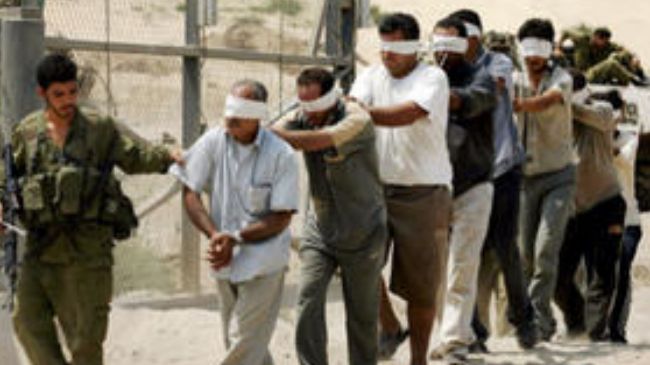 IMEMC, 2/10/14 – A report published by the Palestinian Ministry of Detainees in Ramallah, on February 8, revealed that several ailing detainees currently imprisoned by Israel, including cancer patients, are suffering serious deterioration in their health conditions, due to the lack of adequate and specialized treatment and care.
Lawyers of the Ministry of Detainees visited a number of detainees and collected testimonies of serious Israeli violations against them, especially since those detainees require urgent specialized medical attention, as they are facing life-threatening conditions.
The testimonies gathered by the lawyers are as follows:
1. Detainee Ibrahim Khalil al-Beitar; Anemia.
Lawyer Rami al-Alamy stated that the health condition of al-Beitar, from Gaza, is very serious, as he is not receiving any specialized treatment or medication, and that the only medication he receives is Cortisone. He also suffers extreme pain in the back and intestines.
The lawyer said that the health condition of al-Beitar is gradually deteriorating, and that his weight has dropped from 75 kilograms to 48. The detainee also suffers from infections in his intestines and a tumor in his lower back.
The tumor was removed on December 16, 2013, but Israel never revealed the nature of this tumor, or if it was fully removed.
Recently, al-Alamy developed rectal bleeding, and started feeling repeatedly dizzy, in addition to suffering with Osteoporosis and Arthritis.
2. Detainee 'Ala Ibrahim al-Hamss; Throat Cancer and Tuberculosis.
Lawyer Karim Ajwa stated that the medical condition of al-Hamss, from Gaza and currently serving 29 years, is very bad and deteriorating with increasing pain, as the tumor is enlarging.
Ajwa added that al-Hamss also suffers from Tuberculosis, infections in his intestines, very sharp pain that causes spasms, and urinary incontinence. He requires hospitalization, especially for TB treatment, but the prison administration refused his transfer to the Ramla Hospital.
3. Detainee Naji Arar; Throat Tumor.
Lawyer Mo'taz Shqeirat stated that Arar, sentenced to 18 years and held at the Nafha prison camp, is facing a sharply deteriorating health condition due to a tumor in his throat that could be cancerous, and requires surgery to remove the tumor.
Shqeirat added that Arar was moved to the Soroka Israeli Hospital but the surgeons refused to perform surgery. The surgeons alleged that the hospital lacks specialized physicians and surgery rooms that could deal with his condition.
4. Shady Fuad Qar'aan; Testicular Cancer
Lawyer Mo'taz Shqeirat said Qar'aan, from Tulkarem and sentenced to 25 years, held at the Nafha Prison, suffers from testicular cancer and is only receiving pain medications. He suffers with extreme abdominal pain, and recently starting having blood in his stool.
He is scheduled to be moved to the al-Affoula hospital for surgery on April 3, 2014. The decision to hospitalize him and perform surgery was made by an Israeli court after the detainee filed a complaint against the prison clinic.
5. Yousef Skafy; Blood infection, and Eosinophiles
Skafy, from Hebron and sentenced to four life terms, told Lawyer Shqeirat that he suffers from a slipped disc in his lower back, and pain in his legs, and that he needs urgent surgery.
His condition started when he fell while at the Holi Kidar Prison, and did not receive any treatment. He also has abdominal pain. He receives eight pills a day for heart and stomach conditions, as well as pain medication.
He also suffers from headache, low blood pressure, exhaustion, and numbness in various parts of his body.
6. Fawwaz Abdeen – Tumor
Abdeen, from Hebron and sentenced to fourteen years – held at the Negev detention camp, suffers from a tumor that is causing extreme pain in his urinary tract, intestines, and is also causing pain in passing stool.
He was supposed to be moved to surgery on July 17 2013, but the Prison Administration did not transfer him to hospital, and he is currently only receiving pain relievers.
7. Mohammad Abu Fannoun – Gynecomastia, hearing loss
Lawyer Shqeirat said that Abu Fannoun, held at the Negev Detention Camp, is facing a sharp deterioration in his health condition, and that the doctors at the prison camp are continuously delaying his transfer to hospital for proper diagnosis and x-rays.
He is losing his hearing, in addition to suffering from Gynecomastia (Gynecomastia is the "growth of abnormally large breasts in males. It is due to the excess growth of breast tissue, not excess fat tissue" – National Library of Medicine).
8. Eyad Nassar – Vision loss in his left eye
Lawyer Rami al-Alamy said that Nassar, from Tulkarem – sentenced to 30 years and held at the Ramon prison, was shot by a rubber-coated metal bullet in his eye before he was kidnapped by the soldiers, and has fragments of the bullet in his body.
Nassar told the lawyer that he has complete blindness in his left eye, since he never received adequate medical attention, and that his vision is deteriorating in his right eye. He said he fears he will become blind in both eyes.
He requires urgent and specialized treatment to save his right eye, the lawyer said..
Posted by
Philip Giraldi
on Feb 10 2014 . Filed under
News from the Middle East
. You can follow any responses to this entry through the
RSS 2.0
. Both comments and pings are currently closed.