Settlers Flood Bethlehem Farmlands With Wastewater
Apr 9 2014 / 11:55 pm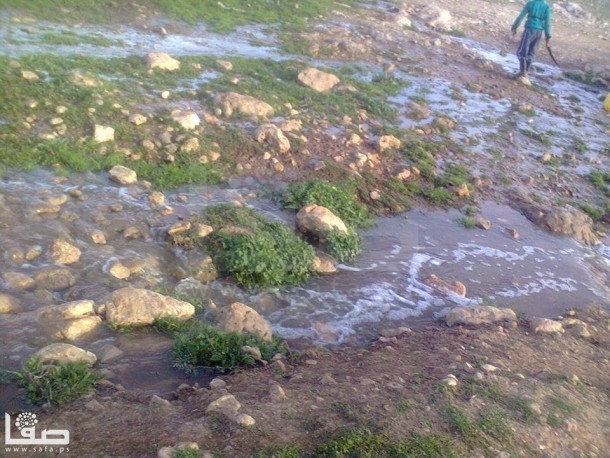 IMEMC – A number of Israeli settlers from the Efrat settlement, south of the West Bank city of Bethlehem, flooded Palestinian farmlands in al-Khader town with sewage.
Coordinator of the Popular Committee against the Wall and Settlements in al-Khader, Ahmad Salah, stated that the settlers pumped sewage into eight dunams of Palestinian agricultural lands belonging to resident Mohammad Yacoub Da'doa', the Radio Bethlehem 2000 has reported.
The attacked lands are close to the Efrat settlement, built on illegally annexed Palestinian lands.
Salah added that this attack will prevent the family from plowing and planting their land, and will not be able to plant grape vines due to the significant degree of contamination.
"Da'doa' family was preparing for the grape season. They suffered very serious losses," Salah added. "Those lands cannot be planted any more; this attack was not the first, as the settlers carried out numerous similar attacks against Palestinian lands and orchards in the area."
Also on Tuesday, soldiers invaded the al-Karkafa area in Bethlehem, and kidnapped Khalil Mousa Zawahra after violently breaking into his home and searching it.
Soldiers also invaded the al-Ehsan Medical Society in Bethlehem after smashing its doors and searching it, causing excessive property damage. They also confiscated computers and documents.
Fanatic settlers in different parts of the occupied Palestinian territories, including occupied Jerusalem are responsible for countless attacks against the Palestinians, their lands and property, in addition to numerous attacks against Islamic and Christian holy sites, and even graveyards.
Posted by
Philip Giraldi
on Apr 9 2014 . Filed under
News from the Middle East
. You can follow any responses to this entry through the
RSS 2.0
. Both comments and pings are currently closed.