Three Palestinians Killed In Southern Gaza
Mar 11 2014 / 7:31 pm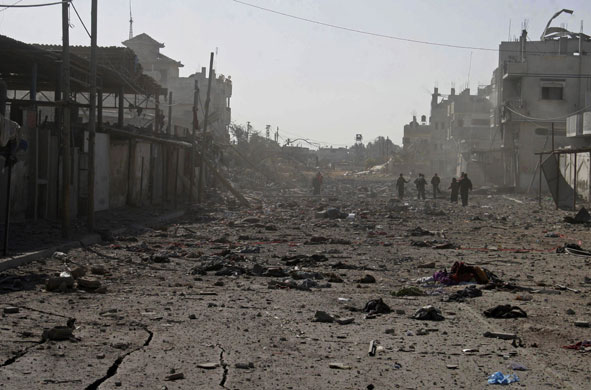 IMEMC, 3/11/14 – Palestinian medical sources said that three Palestinian resistance fighters have been killed by an Israeli shell, east of the Rafah district, in the southern part of the Gaza Strip. Six Palestinians killed by Israeli fire, since Monday.
Ashraf al-Qodra, spokesperson of the Ministry of Health in Gaza, said the slain fighters have been identified as Ismael Abu Jouda, 23, Shaher Abu Shanab, 24, and Abdul-Shafy Moammar, 33.
Al-Qodra added that the three fighters died of serious injuries shortly after being transferred to the Gaza European Hospital.
The three Palestinians are members of the al-Quds Brigades, the armed wing of the Islamic Jihad.
The Brigades said that the fighters clashed with Israeli soldiers invading an area east of Rafah, and fired shells at them. It vowed retaliation to the assassination.
The Israeli army claimed the soldiers killed the three fighters "after they fired mortar shells at Israeli vehicles operating the area."
Also on Tuesday, several armored Israeli military vehicles invaded an area east of Khuza'a town, south of Khan Younis, and uprooted Palestinian farmlands.
Later on, the army invaded the al-Fakhary and Sofa areas, east of Rafah, to search for an Israeli drone that crashed in the area. Military helicoptersand drones also hovered overhead.
Israeli sources claimed Hamas fighters managed to locate the drone, after it crashed 500 meters into Gaza.
The army said that it is investigating the crash of the "Skylark" drone, but did not reveal whether the drone is now in the hands of Hamas fighters.
Israel said the drone has sophisticated systems which prevent the transfer of information to unauthorized access.
In related news, Israeli navy boats opened fire at Palestinian fishing boats in Gaza territorial waters, causing damage but no injuries.
Earlier on Tuesday, Israeli soldiers shot and killed a young Palestinian man from Atteel village, northwest of Tulkarem in the northern part of the occupied West Bank.
Medical sources said that Fida' Mohyeeddeen Majadla, 23, was killed after Israeli soldiers opened fire on his car at the al-Kafriyyat roadblock, south of Tulkarem.
On Monday evening, resident Saje Darwish, 18, was shot and killed by army fire as he was heading to the family barn, close to the Givat Asaf illegal Israeli settlement, built on lands belonging to residents of Beiteen village, north of Ramallah.
Also on Monday, Israeli forces, stationed at the Allenby Border Terminal with Jordan, shot and killed a Palestinian Judge who works in Jordan.
The slain Palestinian has been identified as Raed Ala' Ed-Deen Z'eitar, 38, from the northern West Bank city of Nablus. He is also a Jordanian citizen.
Posted by
Philip Giraldi
on Mar 11 2014 . Filed under
News from the Middle East
. You can follow any responses to this entry through the
RSS 2.0
. Both comments and pings are currently closed.