Two dozen killed as several UNRWA schools hit in Gaza
Jul 24 2014 / 9:15 pm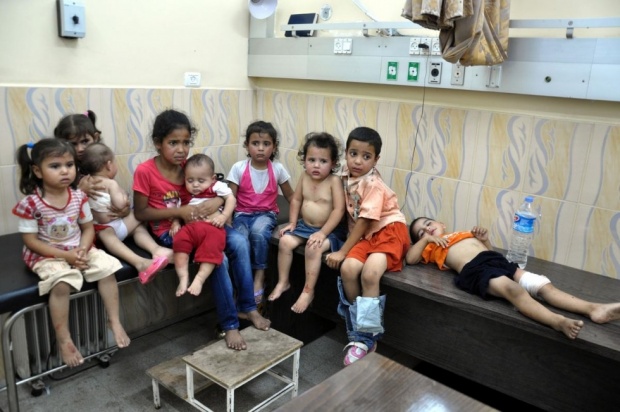 By Mohammed Omer.
Middle East Eye – BEIT HANOUN, Gaza Strip – At Kamal Adwan hospital, the ambulances arrived unusually full with several injured at once. While this is becoming an increasingly regular sight in Gaza, there was something new about these ambulance that were rushing in people from a UNRWA school at Beit Hanoun.
Everyone of those injured or killed had hoped that they would be safe under the UN's protection. But they were not. In recent weeks, people have been flocking to UN-run shelters and the UN said it was sheltering 117,469 displaced Palestinians sheltering at 77 schools before today's bombing. This is more than double the number at the peak of the 2008-2009 Israeli incursion, but many of these internal refugees now feel like they have been left with literally nowhere else to go, now that even the UN schools have succumbed to the Israeli bombardment.
The scenes at the school in northern Gaza are horrific. The peaceful light blue walls of UNRWA schools are still spattered with blood. The children who once studied here, suddenly forced to see another face of their school.
The black and white floor is covered with pools of blood, with a blood soaked blanket and a pair of lonely sandals scattered nearby. The blood belongs to the people who were fasting and were waiting to break their fast three hours later.
Medics informed MEE that out of this single school massacre, 18 people, including a baby, have been killed and over 200 were injured.
Since the attack the panic levels among the already frightened families have reached new levels. Women and children have now fled the school and are taking refuge in hospitals, but these are also full and struggling to cope.
The sheer influx of wounded is too much for one hospital, forcing causalities to be sent to four different hospitals: Beit Hanoun, Kamal Adwan, al-Awda and Shifa hospital.
It is an exhausting feat for a mother to go by foot, searching haphazardly for her children who could be in any one of these four hospitals scattered throughout Gaza. Several people have still not been accounted for, with relatives continuing their frantic search.
The family of 17-year-old Doaa Abu Awda, was forced to scour the various hospitals for their daughter. The family ran to Gaza City's Shifa hospital, despite the heavy shelling in the area, after they were told that she sustained injuries and was being treated there. Once they got there, however, they were told by the receptionist that she was not there. The family ran throughout all the corridors, trying to find her, but couldn't find her anywhere. After exhausting all possibilities, the family made it down to the morgue and, at once, their search come to a tragic end.
Abu Awda was with her family, seeking refuge in a place that she trusted to be safe. More than a thousand Palestinians were in the school in Beit Hanoun seeking refuge with her, when the bombs struck.
"I was sitting in the soccer field when five tank shells hit," an injured child tries to tell Middle East Eye although he struggles to get the words out.
Another woman, running in terror, screams, "my daughter, my daughter… they had her legs and arms amputated."
This is one of the most deadly strikes today, and the bloodiest on a UN institution so far. In the last 24 hours, seven UNRWA schools have been hit or damaged by Israeli shelling and earlier on Thursday three UNRWA aid workers were killed when an Israeli shell hit their school. Five people were also injured in a separate attack on a girls' school, according to the UN.
The incident has further ignited debate about Israel's targeting of civilian sites, especially UNRWA schools and medical facilities that are supposed to be designated safe zones.
Israel insists that it does not purposefully target UN buildings.
"We can't confirm that this is a result of errant fire. In any case, we do not target UN facilities," military spokesman Lt. Col. Peter Lerner told reporters, while stressing that the military had urged the UN and the Red Cross to evacuate the school for three days leading up to the incident.
UNRWA, however, has challenged this. Spokespeople on the ground told Arabic language media that, while UNRWA was warned, it was not given remotely enough time to evacuate the building.
UNRWA spokesman Chris Gunness also separately wrote on twitter about the incident: "Precise coordinates of the UNRWA shelter in Beit Hanoun had been formally given to the Israeli army."
The scores of Palestinians who had been sheltering at the school, have now begun lashing out at aid agencies. And people from the school say that they were misled when the International Red Cross Committee informed them that schools were the safest places to go to. Eyewitnesses additionally told the Middle East Eye that shortly before the blast they were told by ICRC to assemble in one place and that buses would arrive to take them to a safer location. Before the buses could arrive, however, the shelling started. With so many people huddled together the casualty count was almost certain to be huge. Whether the allegations are ultimately proved or not, the result is the same and many Palestinians say they have grown weary, even distrustful, of the aid group.
Hamas has also now spoken out about the incident, saying that Beit Hanoun massacre was extremely ominous.
Sami Abu Zuhri, Hamas spokesman criticised the International Red Cross for its silence and the group has vowed revenge.
"Unfortunately, the Red Cross is not playing any role to scandalise the crimes of occupation and violating humanitarian ceasefire," he told reporters.
Israel launched its military offensive on 8 July, with the declared objective of deterring Hamas from firing rockets from Gaza. Yet, the rockets are continuing after almost three weeks of war. So far the majority of the targets in Gaza have been civilian, according to the UN.
The bombing of civilian structures is forbidden under international law, although Israel says that Hamas hides rockets beneath many of these structures, declaring the bombings legitimate.
However, in a densely populated area like Gaza, it has proved impossible to find anywhere that is a safe haven from Israeli wrath. The cost to civilian lives has been huge.
The death toll since early morning on Thursday now stands at 112 Palestinians, with further strikes expected throughout the evening. Until now, evenings have seen some of the worst shelling. In the past 17 days of war, more than 805 Palestinians have been killed, another 4,800 injured, while 33 Israeli soldiers and two civilians, have been killed.
And the death toll is only set to keep climbing. As the evening began to set in, in Gaza several of the Beit Hanoun families were still looking for missing family members, as were scores of other Gazans who have struggled to make contact with friends and family across the strip.
To the east of Gaza City, the Red Crescent says there are between 30 and 50 people who are missing. No information has thus far emerged regarding their whereabouts.
Um Mohammed Shamali has lost her three brothers and her niece. The last time she was in touch with her brother, he said, "send me an ambulance, please I am injured and bleeding." Then his mobile phone died and Um Mohammed has heard nothing since.
International aid groups are trying to intensify rescue and search efforts but to little avail. According to UNRWA's Gunness: "Over the course of the day UNRWA tried to coordinate with the Israeli Army a window for civilians to leave but it was never granted."
This leaves Um Mohammed and the countless others like her with little hope that aid agencies will be able to act as any kind of barrier to further Israeli attacks that look set to continue wreaking a terrible toll on Gaza.
Posted by
Philip Giraldi
on Jul 24 2014 . Filed under
Commentary & Analysis
,
Featured articles
. You can follow any responses to this entry through the
RSS 2.0
. Both comments and pings are currently closed.