U.S. Strategy in Iraq Increasingly Relies on Iran
Mar 5 2015 / 8:17 pm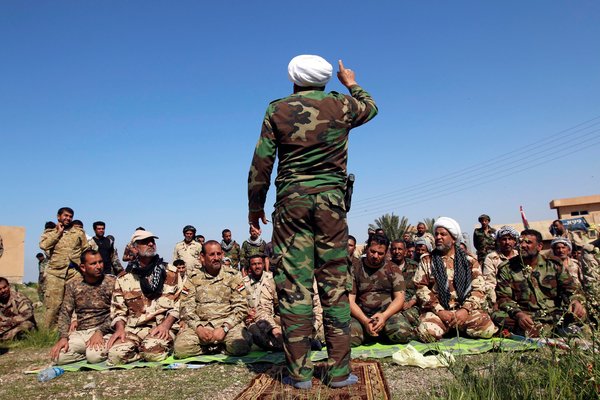 At a time when President Obama is under political pressure from congressional Republicans over negotiations to rein in Tehran's nuclear ambitions, a startling paradox has emerged: *Mr. Obama is becoming increasingly dependent on Iranian fighters as he tries to contain the Islamic State militant group in Iraq and Syria without committing American ground troops.
By Helene Cooper.
New York Times – In the four days since Iranian troops joined 30,000 Iraqi forces to try to wrest Saddam Hussein's hometown of Tikrit back from Islamic State control, American officials have said the United States is not coordinating with Iran, one of its fiercest global foes, in the fight against a common enemy.
That may be technically true. But American war planners have been closely monitoring Iran's parallel war against the Islamic State, also known as ISIS or ISIL, through a range of channels, including conversations on radio frequencies that each side knows the other is monitoring. And the two militaries frequently seek to avoid conflict in their activities by using Iraqi command centers as an intermediary.
As a result, many national security experts say, Iran's involvement is helping the Iraqis hold the line against Islamic State advances until American military advisers are finished training Iraq's underperforming armed forces.
"The only way in which the Obama administration can credibly stick with its strategy is by implicitly assuming that the Iranians will carry most of the weight and win the battles on the ground," said Vali R. Nasr, a former special adviser to Mr. Obama who is now dean of the School of Advanced International Studies at Johns Hopkins University. "You can't have your cake and eat it too — the U.S. strategy in Iraq has been successful so far largely because of Iran."
It was Iran that organized Iraq's Shiite militias last August to break a weeklong Islamic State siege of Amerli, a cluster of farming villages whose Shiite residents faced possible slaughter. American bombs provided support from warplanes.
Administration officials were careful to note at the time that the United States was working in Amerli with its allies — namely Iraqi Army units and Kurdish security forces. A senior administration official said that "any coordinating with the Shiite militias was not done by us; it would have been done by the I.S.F.," a reference to the Iraqi security forces.
It was also Iran's Quds Force that backed Iraq's Shiite militias and Iraqi security forces in November to liberate the central city of Baiji from the Islamic State, breaking the siege of a nearby oil refinery. (A month later, the Islamic State took back a part of the city.)
And last summer, when Islamic State militants first captured Mosul and got within striking distance of the Kurdish capital, Erbil, the head of Iran's Quds Force, Maj. Gen. Qassim Suleimani, flew to Erbil with two planes full of military supplies, American and regional diplomats said. The Iranian move helped to bolster Kurdish defenses around Erbil, the officials said.
In Tikrit this week, Iranian-backed Shiite militia leaders said that their fighters made up more than two-thirds of the pro-government force of 30,000. They also said that General Suleimani, the Iranian spymaster, was helping to lead from near the front line.
Websites supporting the militias circulated photographs of General Suleimani on Wednesday drinking tea on what was said to be the front line, dressed in black and holding his glass in one hand and a floral patterned saucer in the other.
The presence of General Suleimani — a reviled figure in American security and military circles because he once directed a deadly campaign against American forces in Iraq [Ed. note: which had been ordered, under statements now knows to be false, to illegally invade iraq] — makes it difficult for the United States to conduct airstrikes to assist in the Tikrit operation, as it might like, foreign policy experts said.
"There's just no way that the U.S. military can actively support an offensive led by Suleimani," said Christopher Harmer, a former aviator in the United States Navy in the Persian Gulf who is now an analyst with the Institute for the Study of War. [Ed note: ISW is an institute founded by Kimberly Kagan, a pro-Israel neoconservative, funded bypro-Israel megadonors Sheldon Adelson and Seth Klarman] "He's a more stately version of Osama bin Laden."
But the United States strategy in Iraq can benefit from Iran's effort to take back Tikrit from the Islamic State, even if it is not involved directly. Appearing before the Senate Armed Services Committee on Tuesday, Gen. Martin E. Dempsey, the chairman of the Joint Chiefs of Staff, said that the involvement of Iranian-backed Shiites in Tikrit could be "a positive thing" provided it did not exacerbate sectarian tension.
"This is the most overt conduct of Iranian support, in the form of artillery and other things," General Dempsey said. "Frankly, it will only be a problem if it results in sectarianism."
But that is a big worry. In the past — notably just after the withdrawal of American troops from Iraq in 2011 — Shiite militias have been accused of atrocities against Sunnis. And in January, Prime Minister Haider al-Abadi ordered an investigation into accusations that Shiite militiamen massacred 70 people in Diyala Province after pro-government forces expelled Islamic State militants. [Ed note: unproved and no connection to Iran]
This week, Republican lawmakers warned that Iran's influence in Iraq would increase with the Tikrit offensive. "We share the president's goal to degrade and defeat ISIL," Senator John McCain, Republican of Arizona, and Senator Lindsey Graham, Republican of South Carolina, said in a statement Tuesday. "But success in this mission will not be achieved by capitulating to Iran's ambitions for regional hegemony."
Landon Shroder, an intelligence analyst for corporations in Iraq who was in Baghdad last summer when Mosul fell, countered that the worry that Iran will gain influence in Iraq ignores the reality that Iran's Shiite government is already a key Iraqi ally.
By this stage, everybody who observed what happened in Iraq with the Islamic State should know that the main influencer in Iraq is Iran," he said in a telephone interview on Wednesday. "That's an unpopular perception in the United States, after spending so much money and lives lost in the conflict, but it's reality."
Mr. Shroder said that at the moment, the only force with the ability to bring Kurdish troops, the Iraqi Army and the Shiite militias together to fight the Islamic State is Iran.
Rafid Jaboori, the spokesman for Mr. Abadi, the Iraqi prime minister, said in an interview Wednesday that Iraq had urged the United States and Iran not to play out their bilateral conflict in Iraq's battle against the Islamic State.
"So far in general there was no clash within the two," Mr. Jaboori said.
He drew a comparison to World War II. "Countries with different ideologies, different priorities, different systems of government, cooperated to defeat the Nazis," he said. "It's foreseeable that we see countries which might not get along very well in terms of their bilateral relations working to help Iraq to defeat this threat."
Posted by
Philip Giraldi
on Mar 5 2015 . Filed under
Commentary & Analysis
,
Featured articles
,
Iran
. You can follow any responses to this entry through the
RSS 2.0
. Both comments and pings are currently closed.