VIDEO: Israeli Soldiers Beat Elderly Palestinian Man
May 29 2014 / 6:35 pm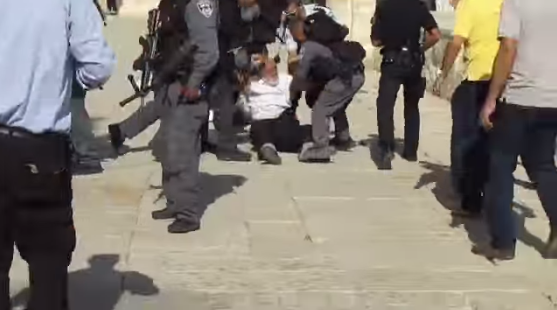 IMEMC – Israeli soldiers have again surfaced in recently publicized video footage, on Wednesday, as they violently beat a Palestinian elderly in Al-Aqsa mosque compound, occupied Jerusalem.
A number of soldiers appear in the footage as they surround a helpless elderly man in the compound, Al Ray reports. One of the soldiers is actually seen punching him before toppling him to the ground with the other soldiers.
The man tried to escape. However, the soldiers violently restrained him amidst massive outrage and protest from Palestinian civilians gathered in the compound.
Al-Aqsa mosque is an increasingly frequent site of attacks on Palestinians, by both soldiers and Israeli settlers.
The video has caused a state of anger among social media activists.
Posted by
Philip Giraldi
on May 29 2014 . Filed under
News from the Middle East
. You can follow any responses to this entry through the
RSS 2.0
. Both comments and pings are currently closed.