War of wages: Hamas employees pressured into resigning
Sep 19 2014 / 2:08 pm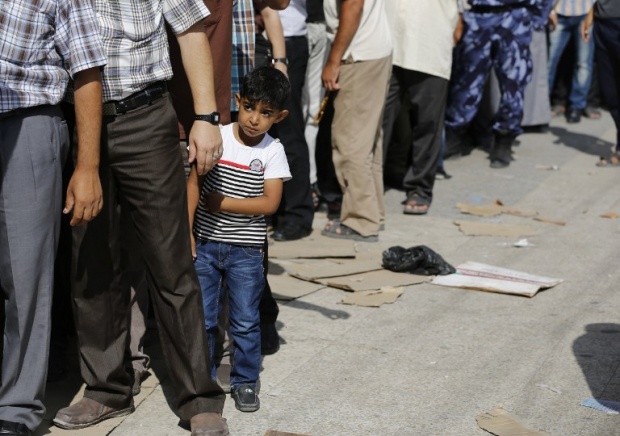 By Mohammed Omer.
Middle East Eye – Palestinian President Mahmoud Abbas has taken to the airwaves of late to accuse Hamas officials of maintaining leadership roles in Gaza and running a shadow government despite the Palestinian reconciliation agreement in April.
That agreement was supposed to end seven years of Palestinian division. Both sides agreed to establish a Palestinian unity government, prepare for presidential and legislative council elections six months after signing the reconciliation deal.
On the face of things in Gaza, Abbas' accusations are accurate: practically, all government work and daily errands are being performed by the same, former de facto government led by Hamas, only without ministers.
Following the Palestinian reconciliation agreement, the de facto government ministers resigned, leaving vacant positions that were filled by only the deputy heads of previous ministers running Gaza Strip.
Only four of the ministers in the new unity government are from Gaza, while the rest are from the West Bank and they are reportedly refusing to communicate with their counterparts in Gaza.
Zakria al-Hur, director general of the Ministry of Education in Gaza, described the problem as the PA's failure to include everyone under one umbrella.
The Palestine Authority, he said, "refuses to acknowledge there are ministries and staff members who have been working already for 8 years in Gaza."
Around 40,000 workers have not received their wages in nine months, he said.
"Until this moment, the minister of education, within the consensus government, hasn't called us, during or after the war, to check on progress of work," al-Hur said.
Al-Hur, however, said the problem goes beyond the Abbas' claims of a shadow government in Gaza.
"President Abbas should come to Gaza and we will give him the keys to the ministries, with all staff members," al-Hur said.
In the meantime, the four ministerial members of the consensus government in Gaza say they have full control over their ministries, including border crossings.
Al-Hur says, Abbas is trying to weaken Hamas by pressuring staff members into resigning and leaving.
"Abbas wanted to achieve the taming of Hamas, by telling the world that he is the one who decides — he does not want the outside world to understand that the resistance got victory in the war, and that only his political path is the correct one," al-Hur said.
The PA still, however, pays the salaries of a few thousand of its people employed within the ministries that are working. But the majority of all ministry staff who used to work under the Hamas-led government, including those working in hospitals, have yet to receive salaries.
Out of the 50,000 staff members, al-Hur said, there are "over 40,000 staff members have worked for eight months and received no income, while tens of thousands are sitting at home getting paid from international community money".
The PA staff, composed of former employees before Hamas takeover of Gaza in June 2007, are getting paid to sit at home. After the national unity deal, they were supposed to get back to work, but they did not.
As of late June, before the war in Gaza started, many of the government workers had not been paid in seven months while others had received only partial pay. Hamas officials had estimated at the time that the workers could be owed as much as $1 billion in back payments.
As many as 600,000 Gazans – or an estimated 36 percent of the Gazan population – have members of their family who work for the government and have been impacted by the pay freeze.
The question which remains unanswered, for international observers, is how the ministries are running while tunnels underneath Gaza-Egypt border have been shut.
Up until former Egyptian President Mohamed Morsi was ousted, taxes from tunnel operators was collected and used to pay public sector employees. As tensions between Egypt and Hamas, an offshoot of the Muslim Brotherhood, escalated after the Egyptian coup, Egypt accused Hamas of allowing gunmen to slip through tunnels in the nearby Sinai desert and destroyed at least 1,370 in response – and with them, a major Hamas revenue stream.
The ministries are now running on revenues from taxes and fees locally collected as the enclave recovers from war. Revenues come in, for example, when cars are serviced as they must be checked by a government agency.
Al-Hur says the education ministry has been forced to cut its running costs and other vital program budgets, including a $100,000 educational project for pupils' rehabilitation – planned by his department – which has now been cut to only $20,000.
Cuts to fuel coupons have also been made. For example, senior staff members commuting from different areas used to receive 130-150 litres of fuel per month, and are now only allowed 30 litres.
Accusations from both sides ended during the seven-week long Israeli war, replaced by apparent expression and display of national unity — but all this seems to be crumbling with increased accusations from both sides, played out in the media.
Still, the Palestinian public is confident that the political parties planned meeting this month in Cairo may bring some common grounds. Abu Abdelhadi, 43-year-old teacher in Gaza City says President Abbas and his consensus government should have visited Gaza.
"We were slaughtered. They never thought of asking about us," Abu Abdelhadi said. "No prime minister would not go check on his people after massive slaughter."
But he said there is no room for naming and shaming just now. National unity has to work, because the Palestinian people should come before Fatah and Hamas.
"After all, we are Palestinians and the blood that Israel spilled should unite us" Abu Abelhaid said.
Abbas has threatened to break off a unity agreement with Hamas if the Islamist movement does not allow the government to operate properly in the Gaza Strip.
Mussa Abu-Marzouq, top Hamas leader said at a recent seminar in Gaza City, that the consensus government has a larger responsibility over Gaza reconstruction. He criticised the PA for establishing a committee for Gaza reconstruction, inside the West Bank.
"Gaza Strip has the ability to manage itself," Abu-Marzouq said.
As the back and forth attacks continue between parties, there are concerns on the ground as to who will pay the price for the political squabbling.
Some EU officials who recently visited Gaza met with several leading civil society individuals and alluded to the notion that both the EU and Israel do not object to paying salaries to Gaza staff members.
Hamas, meanwhile, puts the blame on Abbas.
"We are heading for a massive explosion, in the face of Abbas — the public and media [are] starting to realise that the only obstacle to payment of salaries, is Abbas" says Al-Hur.
– See more at: http://www.middleeasteye.net/in-depth/features/war-wages-hamas-employees-pressured-resigning-1876411696#sthash.dJPSocAf.dpuf
Posted by
Philip Giraldi
on Sep 19 2014 . Filed under
Commentary & Analysis
,
Featured articles
. You can follow any responses to this entry through the
RSS 2.0
. Both comments and pings are currently closed.