"We must impose sanctions" on Israel says British MP
Feb 9 2014 / 7:46 pm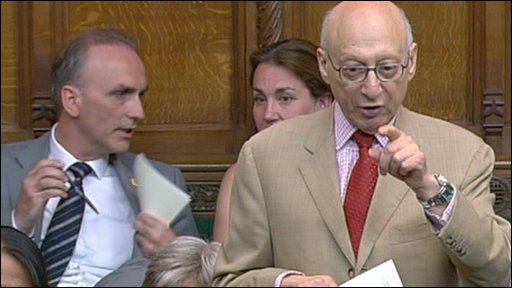 By Stuart Littlewood.
My Catbird Seat – "The time when we could condemn Israel and think that that was enough has long passed. The Israelis do not care about condemnation. They are self-righteous. We must now take action against them. We must impose sanctions. If the spineless Obama will not do it, we must do it—even unilaterally. We must press the European community for it to be done."  – Sir Gerald Kaufman, MP for Gorton, Manchester
I'd like to share, especially with American readers, a great moment in the British Parliament on 5 February when the MP for Gorton, Manchester, Sir Gerald Kaufman rose to speak in a debate on the humanitarian situation in Gaza.  Here is what he said word for word so that you get the full flavor:
I once led a delegation of 60 parliamentarians from 13 European Parliaments to Gaza. I could no longer do that today because Gaza is practically inaccessible. The Israelis try to lay the responsibility on the Egyptians, but although the Egyptians' closing of the tunnels has caused great hardship, it is the Israelis who have imposed the blockade and are the occupying power.The culpability of the Israelis was demonstrated in the report to the UN by Richard Goldstone following Operation Cast Lead. After his report, he was harassed by Jewish organizations. At the end of a meeting I had with him in New York, his wife said to me, "It is good to meet another self-hating Jew."

Again and again, Israel seeks to justify the vile injustices that it imposes on the people of Gaza and the west bank on the grounds of the holocaust. Last week, we commemorated the holocaust; 1.7 million Palestinians in Gaza are being penalized with that as the justification. That is unacceptable.

The statistics are appalling. There is fresh water for a few hours every five days. Fishing boats are not allowed to go out—in any case, what is the point, because the waters are so filthy that no fish they catch can be eaten? The Israelis are victimizing the children above all. Half the population of this country is under the voting age. What is being done to those children—the lack of nutrition—is damaging not only their bodies and brains; it will go on for generation after generation.

It is totally unacceptable that the Israelis should behave in such a way, but they do not care. Go to Tel Aviv, as I did not long ago, and watch them sitting complacently outside their pavement cafés. They do not give a damn about their fellow human beings perhaps half an hour away. The right hon. Member for Banbury (Sir Tony Baldry) quoted the Prime Minister as saying that Gaza is a prison camp. It is all very well for him to say that, as he did, in Turkey—he was visiting a Muslim country—but what is he doing about it? Nothing, nothing, nothing!

The time when we could condemn and think that that was enough has long passed. The Israelis do not care about condemnation. They are self-righteous and complacent. We must now take action against them. We must impose sanctions. If the spineless Obama will not do it, we must do it—even unilaterally. We must press the European community for it to be done. These people cannot be persuaded. We cannot appeal to their better nature when they do not have one. It is all very well saying, "Wicked, wicked Hamas." Hamas is dreadful. I have met people from Hamas, but nothing it has done justifies punishing children, women and the sick as the Israelis are doing now. They must be stopped.

As has been pointed out, there is a time limit for what we are talking about. The idea that things can go on, while we wait for a two-state solution, is gone. Sooner or later, the Palestinians will say, "We are dying anyhow, so let us die for something." Let us stop that: I do not want a war. I do not want violent action, butthe action that the international community takes must be imposed, otherwise hell will break loose. "
Sir Gerald is one of the very few heroic figures in British politics. His family suffered horribly during the Holocaust. After the Israelis' Operation Cast Lead against Gaza in 2008/9 in which they slaughtered 1400, mostly civilians including hundreds of children, he told the House of Commons: "My grandmother was ill in bed when the Nazis came to her home town. A German soldier shot her dead in her bed. My grandmother did not die to provide cover for Israeli soldiers murdering Palestinian grandmothers in Gaza."
He doesn't mince words; he knows the Israeli regime for what it really is. "They're not simply war criminals, they're fools".  He calls Israel itself a "pariah state".
In April 2002, during Israel's controversial military operation codenamed Defensive Shield, Kaufman said in the Commons: "It is time to remind Sharon that the Star of David belongs to all Jews, not to his repulsive Government. His actions are staining the star of David with blood."
He also compared Hamas in Gaza to the Jewish resistance during World War II. "The spokeswoman for the Israeli army, Major Leibovich, was asked about the Israeli killing of, at that time, 800 Palestinians. The total is now 1,000. She replied instantly that '500 of them were militants'. That was the reply of a Nazi. I suppose the Jews fighting for their lives in the Warsaw ghetto could have been dismissed as militants."
As for Hamas, he describes them as "a deeply nasty organization, but it was democratically elected, and it is the only game in town. The boycotting of Hamas, including by our Government, has been a culpable error, from which dreadful consequences have followed." He pointed out that the Irgun [infamously responsible for the bombing in 1946 of the King David Hotel, HQ of the British Mandate government, murdering 91, and the Deir Yassin massacre in 1948] were terrorists, and that "Israel was born out of Jewish terrorism".
There's an interesting footnote on the Wiki page which says: "In 2010, the Supreme Court of Israel rejected a petition by the newspaper Haaretz for the declassification of documents, reports and photographs concerning the Deir Yassin massacre. The court cited the possible damage to Israel's foreign relations…"
The US Congress is stuffed to the gunwales with Jews and Zionist stooges and hirelings. How is it that they are so taken in, or cowed, by the lie machine that few, if any, have the balls or integrity to see the Israeli regime, like Kaufman, for what it is. If they did – and acted accordingly – there would be far less grief around the world.
Sadly, there are big profits to be made from strife and grief.
Posted by
Philip Giraldi
on Feb 9 2014 . Filed under
Israel Lobby
. You can follow any responses to this entry through the
RSS 2.0
. Both comments and pings are currently closed.