'Your drones see everything, Why kill the innocent?'
Aug 19 2014 / 2:27 am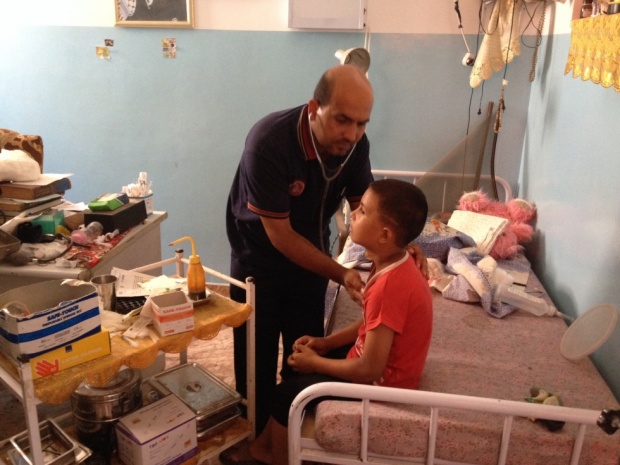 By Mohammed Omer.
Middle East Eye – KHUZA'A, southeast Gaza  – Kamal Qudeh, a doctor serving this small village near Gaza's border with Israel, is sitting in what is left of his private clinic, surrounded by shards of glass, bloody bed sheets and discarded medical gloves.
He is summoning the energy to rebuild and cauterize the memory of the attacks last month that rained death and injury on his fellow villagers  – even already injured patients as they tried to flee the Israeli onslaught. Among the injured, his brother and sister. Among his patients, the doctor himself, having repaired his own wounds even as he treated others.
The initial attack, when it came, was unexpected. On July 17, Israeli F16s dropped leaflets ordering people to leave their homes before a ground offensive started on 20 July.
"The day [20 July] came, but all seemed normal in Khuza'a. So people returned, thinking the leaflets had been a false alarm. Then, on 21 July, in the afternoon, an Israeli F16 missile hit the main road connecting Khuza'a with neighbouring villages," said Dr Qudeh.
He then detailed a shocking story involving those who survived that day but are now hospitalized with wounds or badly traumatized.
When the Israeli bombardment began,  Dr Qudeh contacted the officials of the International Committee of the Red Cross requesting evacuation of civilians by ambulances.
"The agreement was that we would walk down the middle of the road, clearly visible, with ambulances escorting us on both sides,"  he said.
But as the people of Khuza'a waited, neither ambulances nor ICRC personnel appeared.
"We had to make a decision to go by ourselves, without protection, and get to the village entrance. There were around 2,000 of us, walking toward Israeli tanks …  I told the Israelis,  'We are civilians, unarmed, and we needed safe shelter, that we have women, children and elderly and we want to evacuate peacefully'."
The Israeli troops replied through loudspeakers  that there was no coordination and everyone should return home. "We stayed there, standing, hoping they would have compassion and let us through," said Dr Qudeh.
But the Israeli troops began firing their weapons, immediately injuring 30 people. The rest of the evacuees started running and screaming, trying to carry the injured with them,  Dr Qudeh said.
"There was no other option. Ambulances were blocked from entering the village,  with tanks, F16s and drones watching the movements of everyone."
The injured and bleeding and had to get back to Dr Qudeh's private clinic, even though it is just one room with only basic equipment and medical supplies such as gauze, bandages, cotton-wool, antiseptic and some sutures.
"We carried bodies on our shoulders back to my clinic. I managed to stop the bleeding of some people, sutured some wounds and treated others", said Dr Qudeh.
Ala Abu Rejela, a youth who helped carry some of the bodies, tells how the soldiers watched as residents tried to carry the injured and dead evacuees. "Despite this, they still shot at us, near the entrance to Khuza'a," he said.
One of those he tried to carry was a paralyzed 15-year-old girl, Ghader Abu Rejela, who had been unable to run and had been shot. But he was also shot at, and her body lay in the street for three days, until Israeli troops backed off, he said.
In the clinic,  Dr Qudeh's assistants were merely young villagers, who wiped the sweat from his face as he worked to stitch deep wounds. Someone held a phone to his ear as he made urgent calls to the ICRC and ambulances for assistance. Among his patients, some were semi-conscious, suffering from inhaling some form of gas, which he was unable to identify.
As he worked, more villagers came to Dr Qudeh's clinic to check on relatives and friends, mistakenly believing they were safe when the Israeli ground troops fell back.
"While I was treating victims inside, the outside area of my clinic was hit by two Israeli drone missiles – window glass shattered on those receiving treatment, and scores more people were injured outside," he said.
At this time, his own brother – Ahmed Qudeh – and many family members, including his sister, sustained injuries. Dr Qudeh himself suffered shrapnel injuries to his leg and arm.
"I removed the shrapnel from my leg and arm and continued stitching others," he said.
One of those injured that day, Hussein Abu Rejela, 19, was still at home when he heard people screaming and running from the bombs. He ran with them, but was hit by a bullet as well as by three bits of shrapnel.
"People were running from missiles that were falling like rain," he said later at Nasser Hospital with head and hip injuries. "I only remember Dr Qudeh treating me, before coming here."
Rejela is waiting for completion of documentation before he is transferred to Jordan  or Turkey for further treatment.
"The soldiers could see we were civilians and I was only wearing a white undershirt," he said.
Even so, Rejela was fortunate. One missile fired at the crowd from an Israeli jet directly killed 22-year-old Rami Qudeh and seven-year-old  Bader Emish.
With the clinic no longer safe, Dr Qudeh, his patients and everyone else had to evacuate and hide in his uncle's basement. A space only 60 meters square now held 200-250 people, including women and children,  staying the night while he still tried to treat those he could.  Come the morning, the situation became even more dire.
"At 6 am, Israel troops fired teargas, leaving people  stunned and in respiratory distress – we had to help each other breathe using mouth-to-mouth resuscitation," he said.
At 7 am, an Israeli missile hit the basement. "The door was blown off and we had to escape. I shouted out: "All of you, come this way to get out of here, come on!"
About 2,000 people were outside on the street and were met by Israeli tanks. This time, they were allowed to pass, though only for about 500 meters before being led onto a sandy road full of holes and tracks left by Israeli bulldozers.
"The road was covered with cactus thorns and stones crushed by heavy machines, and we were mostly barefoot and naked from top to bottom showing Israeli troops that we were unarmed and just civilians," he said. "We are peaceful, men, women and children, young and elderly who want safety" – this was what we told the Israeli troops."
Dr Qudeh and others carried some 130 injured people on their shoulders. On the way, an elderly man – Ismail Abu Rejela-was – was killed by random fire.  Other patients were pulled on donkey carts as they made their way to Nasser Hospital, in Khan Yunis, about two hours walk  to the west.
Upon arrival at Nasser Hospital,  there were 15 critically injured among the 130 civilians. Some are still waiting for surgical intervention that can't be carried in Gaza. Their health now depends on paperwork and closed borders.
Back in his clinic, Dr Qudeh said: "I challenge [Israeli Prime Minister Benjamin] Netanyahu – his drones can clearly see everyone, pregnant women, elderly, youngsters and children, who have nothing to do with militia resistance – to explain why they should be injured or killed."
Posted by
Philip Giraldi
on Aug 19 2014 . Filed under
Commentary & Analysis
. You can follow any responses to this entry through the
RSS 2.0
. Both comments and pings are currently closed.