Love Life of Israeli PM's Son Sparks Uproar
Jan 27 2014 / 9:41 pm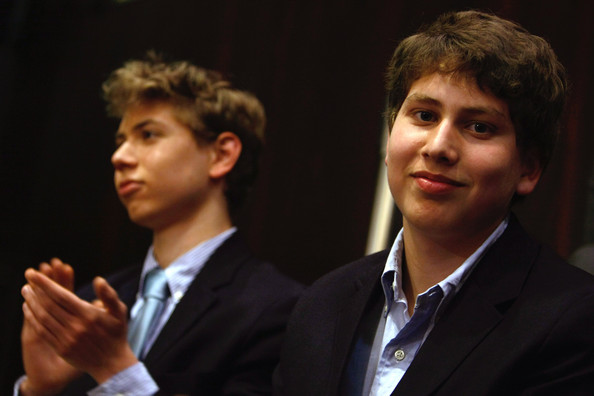 John Whitbeck's commentary:
While polls show that more than three-quarters of the French people view their president's erratic love life as a private affair, it appears from the AP news report, published by the International New York Times, transmitted below that the love life of the Israeli prime minister's son is widely viewed in the "Jewish State" as an affaire d'état.
Love Life of Israeli PM's Son Sparks Uproar
Associated Press –  The love life of Prime Minister Benjamin Netanyahu's son is setting off sparks — in Israeli politics.
News that 23-year-old Yair Netanyahu is dating a statuesque non-Jewish Norwegian university student was not only a juicy item for the gossip pages. It also unleashed an uproar from religious lawmakers opposed to intermarriage, and prompted debate over the Jewish state's relationship with the outside world.
According to reports in Norwegian media, the Israeli prime minister boasted to his Norwegian counterpart, Erna Solberg, about the relationship during a meeting at the World Economic Forum in Davos last week and informed her that his son recently visited Norway with his girlfriend, Sandra Leikanger. A photo of the smiling young couple appeared in both Israeli and Norwegian newspapers.
On Monday, the leader of the ultra-Orthodox Shas party said he believed the relationship actually caused Netanyahu and his wife great "heartache." Arieh Deri told a local radio station the relationship was no mere personal matter because Netanyahu is a "symbol of the Jewish people."
"I know friends of mine who invest tens of millions and more, hundreds of millions to fight assimilation in the world," Deri told the Kol Barama station. "If God forbid it's true, woe to us."
Other groups called on Netanyahu to put a stop to the relationship. Even the prime minister's brother in law, Hagai Ben-Artzi, took to the airwaves to speak out against it.
"Yair should know that if he does such a thing, if he doesn't break off the relationship, then … he is spitting on the graves of his grandmother and grandfather who loved him so much and raised him," Ben-Artzi told Kikar Shabbat, an ultra-Orthodox news site.
Ben-Artzi, an outspoken Jewish nationalist who is often critical of the prime minister, said he had not spoken to the family in months. "Maybe they weren't in touch because they were afraid to tell me," he said.
Netanyahu's office declined to comment, as did Leikanger.
Israel always had an ultra-Orthodox minority of devout and conservative Jews, who currently account for just under a tenth of the population. Thanks to their political clout, the ultra-Orthodox oversee weddings, divorces and burials — meaning that the younger Netanyahu would not be permitted to marry his girlfriend here — if they one day get serious — unless she converts. Orthodox Jewish Law prohibits intermarriage.
In recent years Israel's internal rupture has become even more complex, with religious Jews of various shades, and ultranationalists, increasingly pitted against a secular population that can be extraordinarily progressive on issues like gay rights. The cultural clash has become so extreme — over issues like the religious desire to segregate the sexes on some bus lines or the refusal by the religious to performing compulsory military service — that many Jews joke the internal divisions are more intractable than the troubles with the Palestinians.
Yossi Sarid, a former Israeli education minister and onetime leader of the secular-rights party Meretz, called the younger Netanyahu's love life a "private matter." But he said the uproar among the religious was "nonsense."
"It's not fair. You can't expect fairness from those people," Sarid said. "They don't like non-Jews. They don't like non-Orthodox Jews. They are behaving as fanatics everywhere behave."
Noah Slepkov, an associate fellow at the Jewish People Policy Institute, said the debate reflects changes taking place within Israel.
While intermarriage has long been a "huge deal" in the United States, he said, where roughly half of American Jews marry outside the faith, it has been a nonissue in Israel because Jews and Arabs almost never marry.
But that has begun to change, due to an influx of foreign workers and the trend of Israelis studying and working abroad in an age of globalization. "It's certainly a trend that's at the beginning," he said, but one that nonetheless can make conservative Israelis feel threatened.
He said the criticism of Netanyahu's son was counterproductive in a country that increasingly finds itself isolated.
"We're insecure," he said. "People need to realize that having a few percent of our people intermarrying is not going to hurt this."
Netanyahu himself is a fervent Jewish nationalist and history buff, speaking out strongly against anti-Semitism and other threats facing the Jewish people. He has steadfastly demanded that the Palestinians recognize Israel as the Jewish homeland as part of any peace agreement.
In his younger days, Netanyahu was married to a non-Jewish woman who converted.
Yair, a university student, is the son of Netanyahu's third wife, Sara..
Posted by
Philip Giraldi
on Jan 27 2014 . Filed under
Commentary & Analysis
,
Israeli/Jewish Press
,
John Whitbeck
. You can follow any responses to this entry through the
RSS 2.0
. Both comments and pings are currently closed.