'Mothers of all Palestinians should also be killed,' says Israeli politician
Jul 14 2014 / 11:29 pm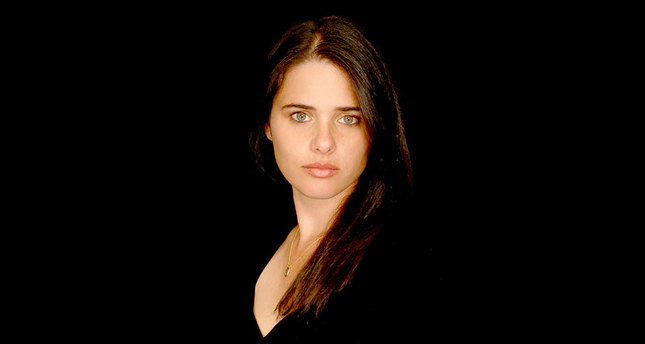 Daily Sabah – As the situation widely deteriorates in the Gaza Strip, Israeli parliament member and law-maker Ayelet Shaked has stigmatized all Palestinians as terrorists, wishing death on all Palestinians while supporting the Israeli military assault.
On Monday Shaked quoted this on her Facebook page: "Behind every terrorist stand dozens of men and women, without whom he could not engage in terrorism. They are all enemy combatants, and their blood shall be on all their heads. Now this also includes the mothers of the martyrs, who send them to hell with flowers and kisses. They should follow their sons, nothing would be more just. They should go, as should the physical homes in which they raised the snakes. Otherwise, more little snakes will be raised there."
"They have to die and their houses should be demolished so that they cannot bear any more terrorists," said Shaked. Standing behind the operations on Gaza, "they are all our enemies and their blood should be on our hands. This also applies to the mothers of the dead terrorists," Shaked added.
A day before Palestinian teenager Muhammad Abu Khudair was kidnapped and burned alive allegedly by six Israeli Jewish youths, Shaked published on Facebook a call for genocide of the Palestinians.
The posts were considered as a call for genocide because it declared that "the entire Palestinian people is the enemy" and justifies its destruction, "including its elderly and its women, its cities and its villages, its property and its infrastructure." she also called for the slaughter of Palestinian mothers who give birth to "little snakes."
An Israeli writer posted an article after Shaked's posts entitled 'Why I'm on the brink of burning my Israeli passport' saying that "I can no longer stand by, while Israeli politicians like Ayelet Shaked condone the deaths of innocent Palestinian women and children".
"She is young. She is pretty. She is a university graduate and a computer engineer. She is also an Israeli Parliamentarian – and the reason why I am on the brink of burning my Israeli passport. Because behind that wide-eyed innocent face lurks the Angel of Death" the writer added in her article.
For a week, Israel has waged a crippling air blitz against the Gaza Strip-dubbed "Operation Protective Edge"-with the stated aim of ending rocket fire from the Palestinian enclave.
Since last Monday, Israeli warplanes have struck more than a thousand targets across the besieged enclave, which is home to around 1.8 million Palestinians killing more than 190 people.
Posted by
Philip Giraldi
on Jul 14 2014 . Filed under
Commentary & Analysis
,
Israeli/Jewish Press
. You can follow any responses to this entry through the
RSS 2.0
. Both comments and pings are currently closed.