The Clintons, Michael Morell, friends of Israel, & Viktor Pinchuk
Aug 23 2016 / 2:44 pm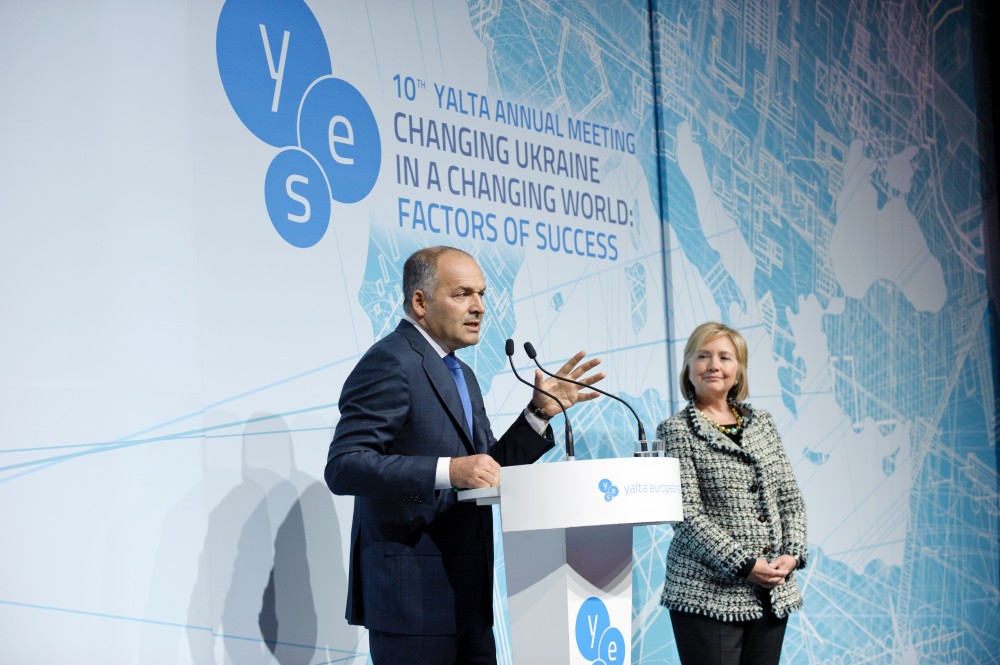 …who is guilty of putting the interests of a foreign government ahead of those of the United States? …. friends of Israel come immediately to mind … and the Clintons… Bill's one-sided pro-Israeli diplomacy at Camp David in 2000… January 2001 last minute pardon of Mossad agent Marc Rich, whose wife Denise was a major contributor to the Clintons… The leading individual foreign donor to the Clinton Foundation was Ukrainian Viktor Pinchuk … a Jewish oligarch very closely tied to Israel…
By Philip Giraldi
On August 5th, Michael Morell, a former acting Director of the CIA, pilloried GOP presidential candidate Donald Trump, concluding that he was an "unwitting agent of Russia." Morell, who entitled his New York Times op-ed "I Ran the CIA and now I'm endorsing Hillary Clinton," described the process whereby Trump had been so corrupted. According to Morell, Putin, it seems, as a wily ex-career intelligence officer, is "trained to identify vulnerabilities in an individual and to exploit them. That is exactly what he did early in the primaries. Mr. Putin played upon Mr. Trump's vulnerabilities… In the intelligence business, we would say that Mr. Putin had recruited Mr. Trump as an unwitting agent of the Russian Federation."
I have previously observed how incomprehensible the designation of "unwitting agent" used in a sentence together with "recruited" is, but perhaps I should add something more about Morell that might not be clear to the casual reader. Morell was an Agency analyst, not a spy, who spent nearly his entire career in and around Washington. The high point of his CIA experience consisted of briefing George W. Bush on the President's Daily Brief (PDB).
Morell was not trained in the arduous CIA operational tradecraft course which agent recruiters and handlers go through. This means that his understanding of intelligence operations and agents is, to put it politely, derivative. If he had gone through the course he would understand that when you recruit an agent you control him and tell him what to do. The agent might not know whom exactly he is really answering to as in a false flag operation, but he cannot be unwitting.
Morell appears to have a tendency to make promises that others will have to deliver on, but perhaps that's what delegation by senior U.S. government officials is all about. He was also not trained in CIA paramilitary operations, which perhaps should be considered when he drops comments about the desirability of "covertly" killing Russians and Iranians to make a point that they should not oppose U.S. policies in Syria, as he did in a softball interview with Charlie Rose on August 6th.
Morell appears to be oblivious to the possibility that going around assassinating foreigners might be regarded as state sponsored terrorism and could well ignite World War 3. And, as is characteristic of chickenhawks, it is highly unlikely that he was intending that either he or his immediate family should go out and cut the throats or blow the heads off of those foreign devils who seek to derail the Pax Americana. Nor would he expect to be in the firing line when the relatives of those victims seek revenge. Someone else with the proper training would be found to do all that messy stuff and take the consequences.
Be that as it may, Morell was a very senior officer and perhaps we should accept that he might know something that the rest of us have missed, so let's just assume that he kind of misspoke and give him a pass on the "recruited unwitting agent" expression. Instead let's look for other American political figures who just might be either deliberately or inadvertently serving the interests of a foreign government, which is presumably actually what Michael Morell meant to convey regarding Trump. To be sure a well-run McCarthy-esque ferreting out of individuals who just might be disloyal provides an excellent opportunity to undertake a purge of those who either by thought, word or deed might be guilty of unacceptable levels of coziness with foreign interests.
So who is guilty of putting the interests of a foreign government ahead of those of the United States? I know there are advocates for any number of foreign states running around loose in Washington but the friends of Israel in government and the media come immediately to mind largely because there are so many of them, they are very much in-your-face and they are both extremely well-funded and very successful. Now deceased former Congressman Tom Lantos and Senator Frank Lautenberg were, respectively, often referred to as the congressman and senator from Israel. And there are many more: Chuck Schumer, Chuck Grassley, Ben Cardin, Bob Menendez, Tom Cotton, Mark Kirk, Nita Lowey, Ted Deutch, Brad Sherman, Ileana-Ros Lehtinen and Debbie Wasserman-Schultz to name only a few in the Congress. All are major recipients of Israel related PAC money and all are reliable defenders of Israel no matter what Benjamin Netanyahu does and no matter how it effects the United States.
And then there are the Clintons. One only has to go back to Bill's one-sided pro-Israeli diplomacy at Camp David in 2000 to discern how the game was played. And then there was the widely condemned January 2001 last minute pardon of Mossad agent Marc Rich, whose wife Denise was a major contributor to the Clintons, to realize that there was always a deference to Israeli interests particularly when money was involved. The only problem is that the Clintons, relying on Morell's formulation, might more reasonably be described as witting agents of Israel rather than unwitting as they have certainly known what they have been doing and have been actively supporting Israeli policies even when damaging to U.S. interests since they first emerged from the primordial political swamps in Arkansas. If one were completely cynical it might be possible to suggest that they understood from the beginning that pandering to Israel and gaining access to Jewish power and money would be a major component in their rise to political prominence. It certainly has worked out that way.
Trump's crime, per Morell, is that he is disloyal to the United States because he is not sufficiently hostile to the evil Vladimir Putin, which somehow means that he is being manipulated by the clever Russian. Trump has indeed called for a positive working relationship with Putin to accomplish, among other objectives, the crushing of ISIS. And he is otherwise in favor of leaving Bashar al-Assad of Syria alone while also being disinclined to get involved in any additional military interventions in the Middle East or elsewhere, which pretty much makes him the antithesis of the Clintonian foreign policy promoted by Morell.
In comparison with the deeply and profoundly corrupt Clintons, Trump's alleged foreign policy perfidy makes him appear to be pretty much a boy scout. To understand the Clintons one might consider the hundreds of millions of dollars, much of it from foreign sources, that have flowed into the Clinton Foundation while Hillary was Secretary of State. And there is the clear email evidence that Hillary exploited her government position to favor both foreign and domestic financial supporters.
The leading individual foreign donor to the Clinton Foundation between 1999 and 2014 was Ukrainian Viktor Pinchuk, who "directed between $10 and $25 million" to its Global Initiative, has let the Clintons use his private jet, attended Bill's Hollywood 65th birthday celebration and hosted daughter Chelsea and her husband on a trip to Ukraine. Pinchuk is a Jewish oligarch married to the daughter of notoriously corrupt former Ukrainian president Leonid Kuchma. He is very closely tied to Israel, a supporter of regime change in his country, who was simultaneously donating money and also lobbying in Washington while Hillary was Secretary of State and promoting a similar agenda as part of her $5 billion program to "democratize" Ukraine. Clinton arranged a dozen meetings with substantive State Department officers for Pinchuk.
Hillary and Bill's predilection for all things Israeli and her promise to do even more in the future is a matter of public record. The Israeli newspaper Haaretz asserted that of all the political candidates in the primaries "Clinton had the longest public record of engagement with Israel, and has spent decades diligently defending the Jewish state." In a speech to AIPAC in March she promised to take the "U.S.-Israel alliance to the next level." Hillary's current principal financial supporter in her presidential run is Haim Saban, an Israeli who has described himself as a "one issue" guy and that issue is Israel.
Hillary Clinton boasts of having "stood with Israel my entire career." Her website promises to maintain "Israel's qualitative military edge to ensure the IDF is equipped to deter and defeat aggression from the full spectrum of threats," "stand up against the boycott, divestment and sanctions movement (BDS)," and "cut off efforts to unilaterally recognize Palestinian statehood outside of the context of negotiations with Israel." In a letter to Haim Saban, Hillary declared that "we need to make countering BDS a priority," which means she is prepared to support laws limiting First Amendment rights in the U.S. in defense of perceived Israeli interests.
As part of the Obama Administration Hillary Clinton at first supported his attempts to pressure Israel over its illegal settlements but has now backed off from that position, only rarely criticizing them as a "problem" but never advocating any steps to persuade Netanyahu to reverse his policy. Notably, she has repeatedly decried terroristic attacks on Israelis but has never acknowledged the brutality of the Israeli occupation of much of the West Bank in spite of the fact that ten Palestinians are killed for each Jewish victim of the ongoing violence.
Clinton supported Israel's actions in the 2014 Gaza War, which killed more than 500 children, describing them as an appropriate response to a situation that was provoked by Hamas. On the campaign trail recently husband Bill disingenuously defended Hillary's position on Gaza, saying that "Hamas is really smart. When they decide to rocket Israel they insinuate themselves in the hospitals, in the schools…" placing all the blame for the large number of civilian casualties on the Palestinians, not on the Israelis. When the media began to report on the plight of the civilians trapped in Gaza Hillary dismissed the impending humanitarian catastrophe, saying "They're trapped by their leadership, unfortunately."
Earlier, as a Senator from New York, Hillary supported Israel's building of the separation barrier on Palestinian land and cheer-led a crowd at a pro-Israel rally that praised Israel's 2006 devastation of Lebanon and Gaza. She nonsensicallycharacterized and justified the bombing campaign as "efforts to send messages to Hamas, Hezbollah, to the Syrians, to the Iranians – to all who seek death and domination instead of life and freedom…" More than nine hundred civilians died in the onslaught and when a vote came up subsequently in Congress to stop the supply of cluster bombs to countries that use them on civilians Hillary voted against the bill together with 69 other pro-Israel senators.
Hillary enjoys a particularly close relationship with Netanyahu, writing in November, "I would also invite the Israeli prime minister to the White House in my first month in office." She has worked diligently to "reaffirm the unbreakable bond with Israel – and Benjamin Netanyahu." She has boasted of her being one of the promoters of annual increases in aid to Israel while she was in the Senate and Secretary of State and takes credit for repeatedly using America's Security Council veto to defend it in the United Nations.
So I think it is pretty clear who is the presidential candidate promoting the interests of a foreign country and it ain't Trump. Hillary would no doubt argue that Israel is a friend and Russia is not, an interesting point of view as Israel is not in fact an ally and has spied on us and copied our military technology to re-export to countries like China. Indeed, the most damaging spy in U.S. history Jonathan Pollard worked for Israel. In spite of all that Israel continues to tap our treasury for billions of dollars a year while still ignoring Washington when requests are made to moderate policies that damage American interests. Against that, what exactly has Moscow done to harm us since the Cold War ended? And who is advocating even more pressure on Russia and increasing the rewards for Israel, presumably in the completely illogical belief that to do so will somehow bring some benefit to the American people? Hillary Clinton.
_
PHOTO: Victor Pinchuk, Hillary Clinton, 2013.
–
Originally published on the Unz Review as "Are the Clintons Israeli Agents? Man who 'ran the CIA' offers an entirely new perspective
Posted by
Alison Weir
on Aug 23 2016 . Filed under
Candidates
,
Commentary & Analysis
,
Featured articles
,
Philip Giraldi
. You can follow any responses to this entry through the
RSS 2.0
. Both comments and pings are currently closed.